Kickstarter Origin Story
Zombie-Based Learning (ZBL) is the brainchild of David Hunter, former teacher from the Bellevue Big Picture school, in a suburb of Seattle, Washington. Big Picture was converting to 100% Project-Based Learning at the time, and David was heavily involved in designing core curriculum there. ZBL got its start in June 2012 from the generosity and support of private donors on Kickstarter, the public crowdsourcing platform.  David's goal was to develop innovative curriculum that was engaging yet academically rigorous, for learning both inside and outside the classroom, and the public response generated 240% of his original funding goal.
Using a zombie apocalypse narrative to teach geography aligned to National Geography standards, the curriculum is crafted for grades 4-8 to include Project-Based Learning into the instruction. We believe that Project-Based Learning is a powerful approach to learning–encouraging active engagement, problem solving and critical thinking skills to help students master concepts more deeply. The Buck Institute of Education (BIE) is an enthusiastic supporter of ZBL, and in 2015 ZBL won the "Outstanding Support for Geographic Education" award. Since it's the organization who created the National Geography standards on which its based,it's a big honor.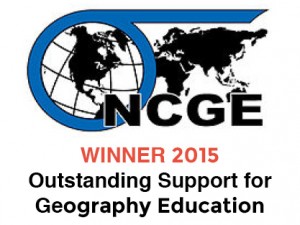 David Hunter, Founder, CEO
David is a former teacher and a curriculum designer who founded Zombie-Based Learning (ZBL) from a successful Kickstarter campaign in June 2012 that generated 240% of its funding goal. The resulting curriculum and press generated fans not only from K-12 teachers, but also from NASA, the White House, Edutopia, Buck Institute, TED-Ed, NPR, National Geographic, and the National Council of Geographic Education. 
David taught at the Bellevue Big Picture School. It is a public school and part of The Big Picture Learning Network, a national nonprofit that emphasizes innovative learning environments for personalized learning and real-world application. Teaching at Bellevue Big Picture School resulted in his designing 25+ original Project-Based Learning curricula during his tenure that not only incorporated standards, but improved learning, engagement, and critical thinking skills. Zombie-Based Learning is an original geography curriculum using a zombie apocalypse theme to engage even the least-engaged students, with an accompanying original graphic novel. It was developed using the Understanding by Design® framework from ASCD and was the first of his curriculum commercially available.
As a disengaged student frustrated by the "stand and deliver" traditional classroom method, David was additionally discouraged from participating in his own learning–so much so that he subsequently dropped out of high school. After eventually returning to college and earning his Masters in Teaching, he better understood what obstructed a student's potential, and was inspired to imagine and create an improved classroom environment offering a flexible range of learning experiences for both teachers and students. David earned his Masters in Teaching: English Language Arts and Social Studies, in addition to B.A. in English, from The Evergreen State College. www.linkedin.com/in/davidthunter
Kishari Sing, Co-founder, CMO/COO
Kishari is a dynamic strategic marketing professional with 20 years of advertising and marketing best practices from global Fortune 500 B2C brands to B2B startups, which she applies to the K-12 education technology industry. A market-driven strategist with Pragmatic Marketing certification, she is hands on–from research to execution–to define and deliver clarity in communications and public relations. Her experience includes brand giants such as Mattel, Cadillac, Nestle, Computer Science Corporation and Sage Software.
From her six years experience within in the K12 education industry at companies GlobalScholar/Scantron, Middlebury Interactive Languages, and consulting for the National Council of Teachers of English, she has demonstrated strategic leadership, addressed industry tactical problems, and built alliances to meet the challenges and share the exciting results of the fast-changing convergence of technology, reforms, and social media impacting the classroom.
As a K-12 student, she had the opportunity to study both world languages and music, experiencing firsthand the benefits of alternative subjects to complement traditional learning. As a bookworm and lifelong learner, she is deeply dedicated to helping all students develop a love of learning to be successful in school and life. Kishari earned a B.A. in Economics from UC San Diego.  www.linkedin.com/in/kisharising/